Reading Time:
4
minutes
The holidays bring massive spikes in sales for both brick-and-mortar and e-commerce retailers, presenting the opportunity for increased revenue, but also unique challenges: Retailers must be able to handle the increased stock, traffic, orders, and returns efficiently in order to make the most of the holiday season.
This guide outlines just how significant the holiday sales peaks are and how retailers can prepare for the holiday season ahead of time.
The State of Holiday Retail & E-commerce Sales
Holiday Sales Continue to Increase
As the holiday season rapidly approaches, retailers are expanding their inventories to satisfy early orders, Black Friday masses, and the December holiday season. This seasonal peak accounts for about 20 percent of annual sales for many retailers, but that number can be as high as 30% for retailers such as toy, game, and hobby stores.
Holiday sales are also increasing with each holiday season. In 2018, holiday retail sales exceeded $1 trillion for the first time, and the dollar amount spent by the average U.S. shopper increased by 14% between 2017 and 2018.
The holiday season has an especially large impact on the e-commerce sector of retail, which makes up 55% of all holiday purchases. According to the U.S. Census Bureau, e-commerce continues to increase its percentage of all retail sales year over year: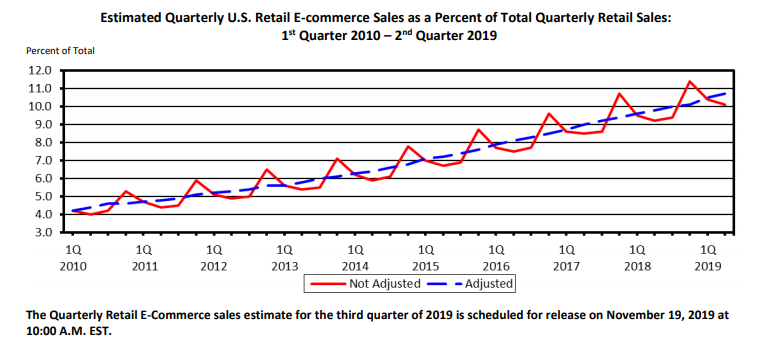 Graph via Census.gov
Holiday e-commerce sales are also increasing. Whereas 2017 e-commerce holiday sales totaled $108.2 billion, they jumped to $126 billion in 2018, representing year-over-year (YoY) growth of 16.5%. This figure represents significant acceleration compared to 14.7% YoY growth in 2017 and 14.4% in 2016.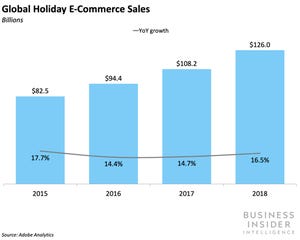 Graph via Business Insider
[Related: 10 Best E-commerce Platforms for Businesses]
Holiday Shopping Season Is Starting Earlier
Black Friday tends to kick off the holiday shopping season for most people, making Black Friday the busiest shopper traffic day of the year. Unsurprisingly, Cyber Monday sees more online shopping than any other day of the year.
Despite the fact that these days occur in the end of November, most organizations consider the holiday shopping season to run from the beginning of November through the end of the year. Many retailers are encouraging early shopping with deals starting as early as November 1, a trend that has led to the coining of the term "Black November."
But November 1 is still too late for some, with 39% of holiday shoppers planning to begin purchasing before November.
The result of all these changes is that retailers don't only need to prepare for significant increases in sales — they also need to start preparing earlier than ever before.
[Related: How Experiential Retail Is Shifting E-commerce]
How to Prepare for the Holiday Retail Peak
Get Organized
Before bringing in massive amounts of new stock, organize the inventory that you already have on hand. Prepare your stock receiving area for all the incoming merchandise and try to make frequently used items accessible to increase efficiency.
This is also a great time for brick-and-mortar retailers to perform necessary maintenance in any customer-facing areas.
[Download the Whitepaper: Inventory Management Secrets for Warehousing & Fulfillment]
Stock Up
Inventory planning, purchasing, and storage should begin months before the holiday sales peak. The added inventory can pose a problem for warehousing and inventory management, so make sure you have the necessary space, tools, and workforce to handle everything ahead of time.
Retailers that sell across multiple sales channels will also need to optimize their stock location for in-store availability and efficient shipping across the nation.
[Related: Demand Forecasting: How to Forecast Your Supply Chain]
Optimize Order Fulfillment
Accurate and efficient order fulfillment is essential to handling the abrupt spike in demand for numerous different product SKUs. Remember that on-time delivery is one of the most important factors in customer satisfaction at this time of year.
You'll also need to ensure real-time visibility and tracking data throughout the supply chain — both to ensure internal organization and to give customers real-time updates on their order status.
[Related: An Essential Guide to Order Fulfillment]
Prepare for Returns
Retailers' work doesn't end after the holidays are over — that's when returns begin. In 2018, 13% of purchases were returned after Christmas, and 34% of people in the U.S. planned to return at least one gift they received.
Returns involve processing items, issuing replacement products or refunds to the customer, restocking so that items can be resold, and repairing or recycling faulty items. All of this can be expensive and overwhelming if retailers aren't prepared.
[Related: Guide to Reverse Logistics]
How Hollingsworth Can Help
Hollingsworth has aligned our warehousing and distribution systems with the needs of peak capacity and operations to support the busy season ahead. Our locations throughout the U.S. are fully equipped to support peak season retail and e-commerce sales with:
Whether your retail organization needs warehousing space for all that extra inventory, or your e-commerce business requires full-service order fulfillment and distribution to keep holiday orders accurate and timely, Hollingsworth can help. Our best-in-class supply chain management and proven track record of efficiency will ensure your business's success this holiday season.
And after the New Year, Hollingsworth can assist with post-holiday support through services such as reverse logistics. Hollingsworth's reverse logistics services include comprehensive support with return management, inventory control, and repackaging:
Returns management: Our returns management support often involves help desk customer service, refurbishment, recycling, and managing waste, spare parts, and replacements.
Inventory control: We help manage the inventory that re-enters your supply chain accurately and efficiently with quality inspections, precise sorting methods, and state-of-the-art tracking technology.
Repackaging: Returns must be repackaged when they're missing parts or need to be disassembled and reintegrated into the warehouse. Our high-tech systems help us streamline repackaging for greater speed, getting all your inventory back where it needs to be.
Request a quote today for more information on fulfillment and distribution, reverse logistics, and our other services. Our sales team will be in touch to discuss your unique needs for the upcoming peak retail season.