Let Us Improve the Efficiency of Your Inventory Storage and Management
Inventory warehousing requires a significant footprint of square footage, but space isn't the only aspect of product and part storage. The effectiveness and efficiency of the warehouse's supply chain is key to the speed and accuracy of inventory shipments from the warehouse to destinations around the world.
Hollingsworth's Warehousing Solutions
Hollingsworth specializes in small parts supply chain management and packaging for direct shipments to our customers' dealers and PDCs located throughout North America. We utilize a fully integrated warehouse operating system supported by SAP technology. By partnering with Hollingsworth, you'll have the ability to focus on your customer needs, knowing that we're effectively and optimally maintaining your inventory levels.
We serve a wide range of industries and business sizes with warehousing services such as private (dedicated), public (shared), and inventory management.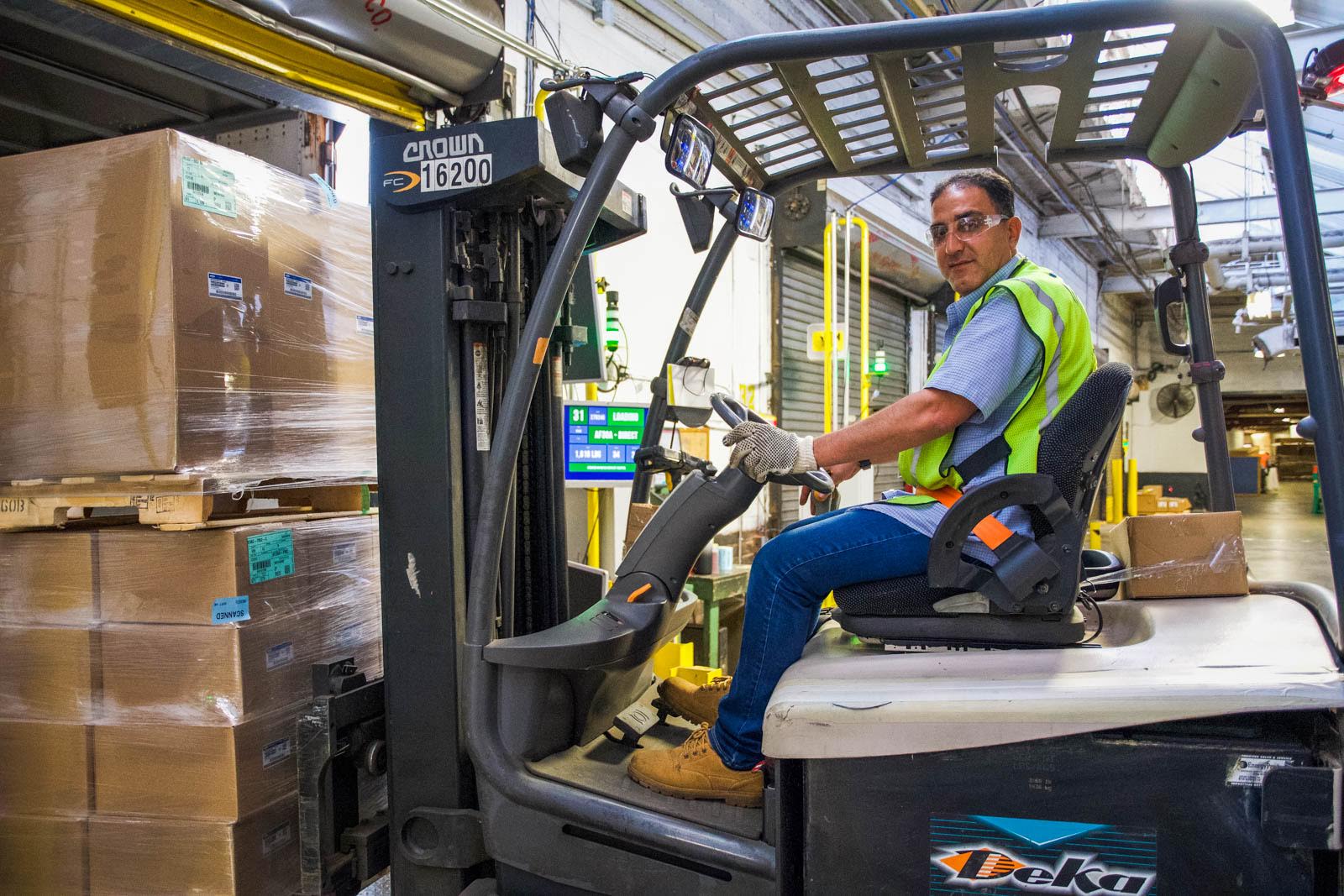 Private: Hollingsworth's warehousing options cover any need a business could have for security, scaling, and integration with your business. Contract, private warehousing such as this is ideal for storage of sensitive, high-value inventory. We also accommodate temperature-controlled inventory management for dedicated contracts. Many businesses engage our dedicated contract warehousing in order to have greater control of and access to their products. All private warehousing is managed with SAP to ensure accurate and on-demand inventory tracking, location management, and more. With multiple warehousing locations around the U.S., Hollingsworth is also equipped to scale your inventory storage as quickly as your business grows.
Public: When you're ready to outsource the storage of your products, look to Hollingsworth for cost-effective options for public and shared warehousing space. We optimize our public storage space to ensure optimal efficiency throughout the supply chain. This allows for the most rapid and accurate inventory shipment, increasing your customers' satisfaction with reduced delivery times. With both short- and long-term warehousing options, we can adapt to your business' changing needs and help you scale your inventory effectively.
Inventory Management: With multiple product SKUs and thousands (if not millions) of products flowing through distribution centers around the U.S., effective inventory management is vital to ensure organization and optimized product shipments. Efficiency is a top priority to improve lead times and reduce costs, and Hollingsworth's proprietary SAP system helps us maintain a highly effective inventory management service supported by best-in-class supply chain management.
Why Outsource Warehousing?
Commercial warehousing space is becoming less and less accessible thanks in large part to Amazon's rapidly growing network. Although leasing rates are expected to balance out in the coming years, retailers and manufacturing businesses need to look to the future for their warehousing needs. By outsourcing your inventory storage and management, your business can enjoy some important benefits:
Ship further and faster with a larger distribution network.
Decrease the cost and time to ship products thanks to bulk pricing.
Minimize risk of errors, including lost products and incorrect shipments.
Set your mind at ease with highly tested and proven-efficient warehousing and inventory management thanks to top-of-the-line equipment, technology, and operations.
Scale your inventory storage space quickly and easily with minimum effect on your current business.

Advantages of Partnering With Hollingsworth for Warehousing
Hollingsworth is your ideal partner for trackability, accuracy, efficiency, and cost-management for warehousing and inventory-related services. Our clients enjoy a long list of advantages when they choose us to store or manage their products, including:
Ability to view, track, and manage your inventory in real time with our proprietary technology
Two-day shipping to almost anywhere in the U.S. thanks to optimally located distribution centers
Optimized supply chain management with SAP programming
A fully integrated operating system supported by SAP
Reduced risk of human error or delays thanks to top-of-the-line technology and equipment
Streamlined and accurate customer reporting
Integrated program management for a collaborative approach
Emergency orders and expedited shipments
Over 30 years of experience fulfilling top-quality warehousing services
Constant improvements in our processes, techniques, and infrastructure
Warehousing Features
Our warehousing systems feature a long list of beneficial attributes that set our services apart as best-in-class. Some of the notable features of our warehousing and inventory management services include:
Seamless integration with your ecommerce inventory management platform
Custom packing lists that include your company's branding, such as a logo
Fully automated order confirmation, tracking, and delivery status updates
Full-service return management to effectively and accurately manage inventory
EDI and routing guide compliance with major retailers
Vendor compliance with purchase order receipts, advance ship notifications (ASNs), and compliant barcode/parcel labels
Order integration to connect your EDI feed to our order management system (SAP)
Contact us to learn how a partnership with Hollingsworth will optimize your order and inventory management, improve customer satisfaction, and grow your business.
Keep up-to-date — sign up for our newsletter and follow us on social media.