Our Employees are the Differentiating Benefit of Partnering with Hollingsworth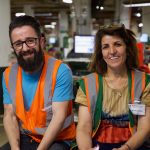 We are committed.
The Hollingsworth Family includes more than 3,500 employees from diverse backgrounds, located across 32 U.S. locations. Together, we have the knowledge, skillsets, and work ethic to excel in supply chain management. Together, we achieve the Hollingsworth vision:
We will use our agility and passion for continuous improvement to exceed the diverse Supply Chain needs of our valued customers. We will create the best experience the industry has to offer.
We are united by our core values.
Integrity: We are responsible to our customers, business partners and each other to behave ethically, honestly and genuinely; there are no alternatives.
Safety:  We provide a workplace that strives to provide freedom from danger, risk or threat of harm and integrates safety into every facet of the organization.
Diversity and Inclusion: We have a welcoming culture that embraces the unique values, traits and skills of each team member.
Community: We are committed to investing and engaging in the communities where we live and work in order to serve the greater good.
Continuous Improvement: We are constantly developing and refining our peoples' skills, our processes and our services to exceed customer expectations.
We are diverse.
The Hollingsworth family is over 80% minority-based. In addition, we are 100% Native American owned and certified by the National Minority Supplier Development Council (NMSDC). Hollingsworth is proud to be as diverse as the communities in which we work. Our appreciation for a diverse workforce allows us to:
Employ great talent
Tap into a variety of perspectives to see and solve challenges
Encourage employees to bring their whole self to work, including their best ideas and ability to focus on doing great work
Value employee contributions – which minimizes turnover and maintains stable, strong operations
We are strong.
At all levels of the company, we look for and strengthen competencies critical to success:
Continuous Improvement: We love to make things better!
Customer Service: We understand what success looks like for our customers and we relentlessly pursue ways to support their goals.
Initiative: We are proactive to identify opportunities and take action.
Planning/Organizing: We are systematic and focused.
Professional/Technical Expertise: We continually build critical internal capabilities.
Teamwork: As One Hollingsworth, we collaborate to achieve results.
We are passionate about                          customer success.
Customer focus is in our DNA. Common across the Hollingsworth family is a mindset to satisfy our customers. Our employees take personal pride and shared accountability to safely and consistently provide quality product in a timely manner and in a way that meets customer needs.
We are One Hollingsworth.
Here are just a few Hollingsworth Family members who live our values and support customer success:
Lockheed Martin – Ft Worth, TX.  With 533 hours volunteered in 2020 had the most total hours volunteered in the company (outside of Warren Ave).
LH-M Ft. Worth partnered with The Salvation Army and hosted an Army Angel Tree toy drive at our site, with which we collected over 200 toys. 
We also volunteered at The Salvation Army toy distribution site where we had the opportunity to put the children's wish list items together, and hand deliver them to the families in a drive through gift giving event".  
Keep up-to-date — sign up for our newsletter and follow us on social media.