Flexible, Accurate, and Cost-Effective Packaging
Powered by SAP and customized by you, Hollingsworth delivers cost-effective service and contract packaging solutions with the best accuracy and quality in the industry. Whether you require customized kit assemblies or outsourced management of your complete packaging operation, Hollingsworth has the infrastructure, processes, and expertise to meet your challenge.
Hollingsworth's Packaging Solutions
Packaging is an important service for many industries, and Hollingsworth has a proven record of excellence in our packaging services for automotive, aerospace, retail and ecommerce (B2B and D2C), government, electronics, healthcare, beverages, and consumer goods.
Hollingsworth offers multiple packaging solutions, including contract packaging, on-demand packaging, and kitting.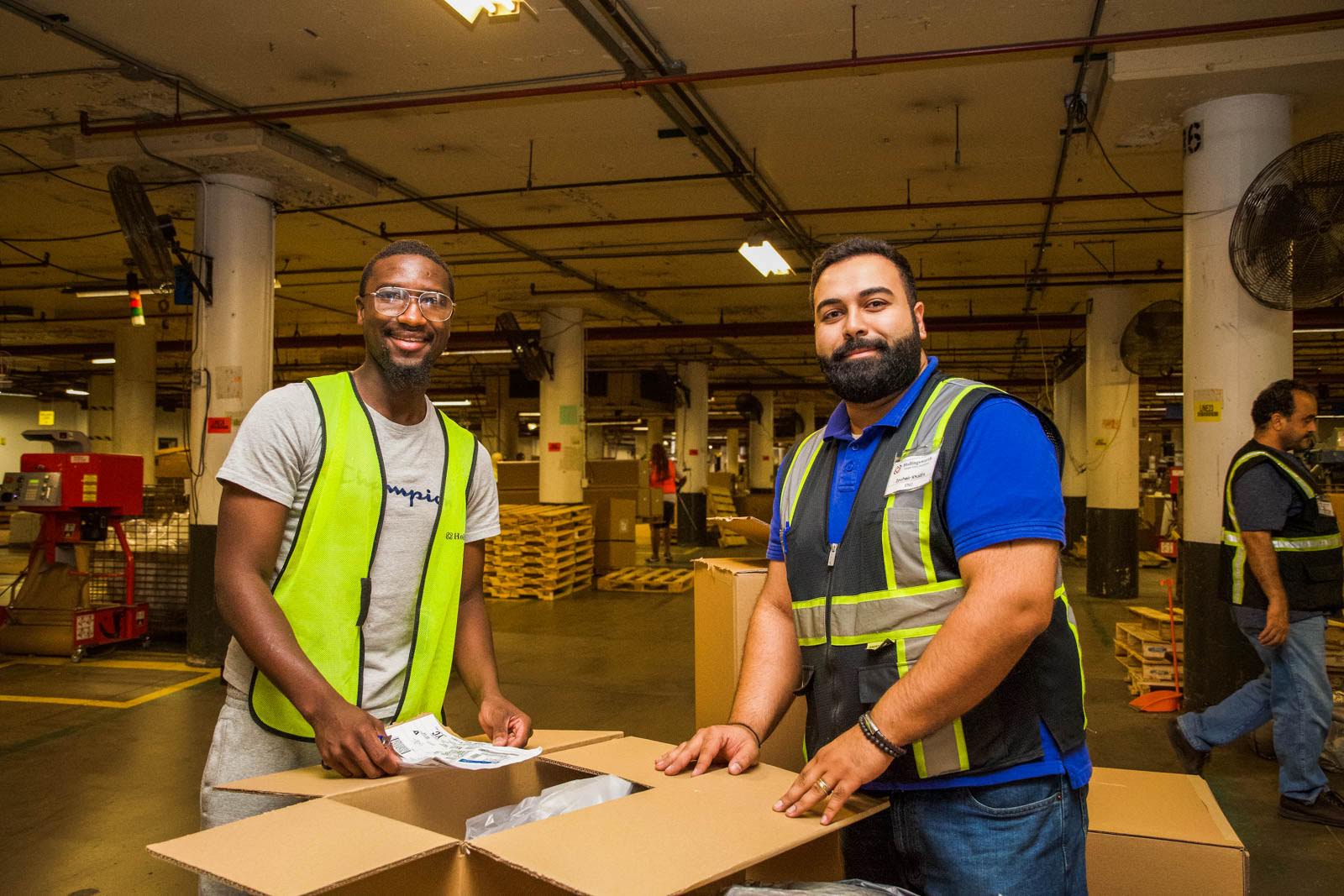 Contract Packaging: Serving as an extension of your business, Hollingsworth provides quality control and inventory management procedures to support our contract packaging services. This fills a distinct need with companies that don't have the infrastructure or capacity to manufacture and package their products for distribution. Hollingsworth's contract packaging makes it easier and far more cost-effective for retail and ecommerce companies to operate and scale as they grow. We will manufacture your products with the same level of quality that you would, and allow flexibility with our operating procedures, so that you can set your own specifications and standards at the start of our partnership. Whether it entails hand packaging, automated packaging, or light assembly and distribution, Hollingsworth will support your product throughout the entire process to ensure efficiency, accuracy, and a best-in-class contract packaging experience for our partners.
On-Demand Packaging: When services are streamlined and sold at mass scale, companies need service packaging to distribute their service packages most effectively. Hollingsworth's service packaging enacts cross-functional disciplines in order to most efficiently package and deliver in-demand services on behalf of our clients. These could include graphic design, prototyping, direct mail, fulfillment services (such as collating, packing kits, and assembly), warehousing, just-in-time solutions (such as emergency same-day service), custom items, and continuous product inventory.
Kitting: With the rise of subscription-based ecommerce for everything from clothing and shaving accessories to pet goods and even food, kitting is becoming a more prevalent need than ever before in product distribution. We have a diverse offering of kitting services to fulfill each step of the process, ensuring accuracy and reducing human error mistakes while minimizing costs and speeding up delivery times. Our kitting services are completely customizable and can support identical bulk kits with greater flexibility to scale quickly and affordably. They also cover a variety of areas, including production, line-side readiness, accessory, recall, performance, campaign, marketing, promotional, and subscription.
Why Outsource Packaging?
Packaging is one of the most time-consuming elements of product distribution, and outsourcing this service can offer some significant advantages:
Significantly reduced overhead
A rapid, versatile shipping network for national and international orders
Reduced shipping costs
Mitigated risk of human error with kitting mistakes (automation)
State-of-the-art equipment and technology

Advantages of Partnering With Hollingsworth
The contract and service packaging and kitting services at Hollingsworth are customized for each client's unique needs. Since our founding in 1987, we have had a proven track record of excellence in logistics, bringing some key benefits to our packaging customers:
Elimination of human error mistakes in packaging and kitting
Two-day shipping to more than 90 percent of the United States
Reduced supply costs due to our expansive network
Remarkably efficient supplier management and activity coordination
Real-time visibility and management from the point of sale through delivery via our secure web portal
Optimized supply chain and improved accuracy due to SAP programming, our fully integrated operations system
Improved risk management using technology (SAP), customer reporting, and collaborative program management
Emergency or expedited order processing
Capacity for quick, affordable, and sustainable growth and expansion
Ongoing improvements to infrastructure and processes for greater efficiency
Over 30 years of experience with best-in-class distribution and fulfillment services
Minority company with minority spend
Features
Hollingsworth supplies a wide variety of business types, including retail and ecommerce, marketplace, B2B, and direct-to-consumer companies. These clients range a diverse group of industries, including automotive, electronics and consumer goods, aerospace, government, and healthcare. Our packaging and kitting services feature some notable differentiators:
In-house engineering staff for planning, prototyping, and packaging
Ecommerce platform integration
Custom packing lists with company branding
Compliant programs for purchase order receipts, advance ship notifications (ASNs), parcel barcode labeling, routing, and EDI
Integration of SAP with your EDI feed
Efficient tracking and visibility via our barcode labeling system
Automated updates on order statuses
Return management when needed
Contact us to learn how a partnership with Hollingsworth will optimize your order and inventory management, improve customer satisfaction, and grow your business.
Keep up-to-date — sign up for our newsletter and follow us on social media.