Partner With Hollingsworth to Achieve Superior Results With Your Assembly and Just-in-Time (JIT) Delivery Requirements
Hollingsworth Assembly and Just-in-Time (JIT) Delivery Services: Precision Assembly and Module Build-Up, Just-in-Time Delivery Expertise
From light assembly of electronic components to complex build-up of automotive modules, Hollingsworth offers best-in-class systems and processes to execute your most complex assembly, sequencing, and just-in-time delivery challenges. By shifting the final assembly process further along the supply chain, our program management enables you to run inventory more efficiently and respond more quickly to market demands.
Hollingsworth manages delivery of these completed assemblies to your customer, just-in-time or just-in-sequence, as required.
Hollingsworth's Assembly and JIT Delivery Solutions
Modular customization and the increase in parts variety have created real challenges for many original equipment manufacturers (OEMs) related to inbound logistics. Hollingsworth recognizes our customers' goals, developing extensive service capabilities in the field of product metering and sequencing to help achieve them. Our experience, technology platform, and infrastructure enable you to achieve maximum variants with the shortest lead times.
With decades of experience fine-tuning our processes and becoming experts in accurate demand forecasting, we're able to help our customers get to the next level of efficiency. Our JIT delivery service implements highly specific forecasts for demand so that we receive goods only when they are needed in the production process, thereby reducing inventory costs and waste and increasing efficiency and profit.
Automotive, manufacturing, and engineering businesses can benefit from Hollingsworth's assembly, sequencing, metering, repackaging, and JIT delivery services.
Assembly: Assembly has been part of our service offering from the very beginning. Hollingsworth got started in 1925 as one of the world's first expeditors of automotive parts. Today, we provide augmented assembly services to a wide range of industries, including module buildup, sub and final assembly, and full-service assembly with design, material sourcing, and fabrication or kitting. We are a full third-party logistics facility that can support assembly of products or parts for virtually any industry.
Sequencing: Fulfillment logistics are complex, and often require different managers to make key decisions at distinct stages along the supply chain — decisions that are all determined by each party's costs and constraints. Costs increase when scheduling is delayed or when the product(s) reach a stage earlier or later than planned. When improved with technology and strategically adjusted processes, supply chain scheduling and just-in-time delivery forecasting can have a significant impact on cost optimization and efficiency. Hollingsworth provides exemplary JIT delivery services at varying stages of complexity to meet our clients' needs, while also maintaining cost-effectiveness.
Metering: Our long history as an automotive parts expeditor has resulted in expert-level metering for both the automotive industry as well as non-automotive OEMs. These industries rely on the efficacy and accuracy of our supply chain management, which uses a fine-tuned bulk parts process of metering to receive and register commodities such as bulk parts and then route them to the correct assembly station or the warehouse for storage. Using our proprietary SAP ERP technology, we're able to track every item through each and every stage of the supply chain, ensuring optimal, accurate, and up-to-date third-party logistics services.
Repackaging: Hollingsworth provides varying levels of repackaging services, depending on our clients' needs. We offer repackaging as part of our reverse logistics service offering, but we also conduct repackaging services for new assembly or kitting projects. Some of our assembly repackaging services include product bundling, shrink wrapping, cartoning (flexible for both vertical and horizontal), and applying branding materials or RFID labels for tracking. From repacking powertrain parts and A/C compression motors to facilitating the production of emergency preparedness kits, Hollingsworth can help.
Why Outsource Assembly and JIT Delivery?
Due to the complexity and vast amount of parts and systems involved in an effective supply chain that includes assembly or sequencing, outsourcing these services can have several key advantages:
Reduces labor and overhead costs for time-consuming assembly and high-tech sequencing systems
Provides access to highly efficient processes and expert-level operations
Reduces risk of human error with hands-on tasks thanks to automation
Provides top-of-the-line equipment and technology
Removes steps (i.e. time and costs) in the supply chain by colocating inventory with assembly and sequencing operations
Reduces transportation and lead times and decreases warehousing costs with optimal inventory levels
Maintains operational excellence and customer satisfaction without the overhead cost and business risks associated with lack of experience and substandard equipment and technology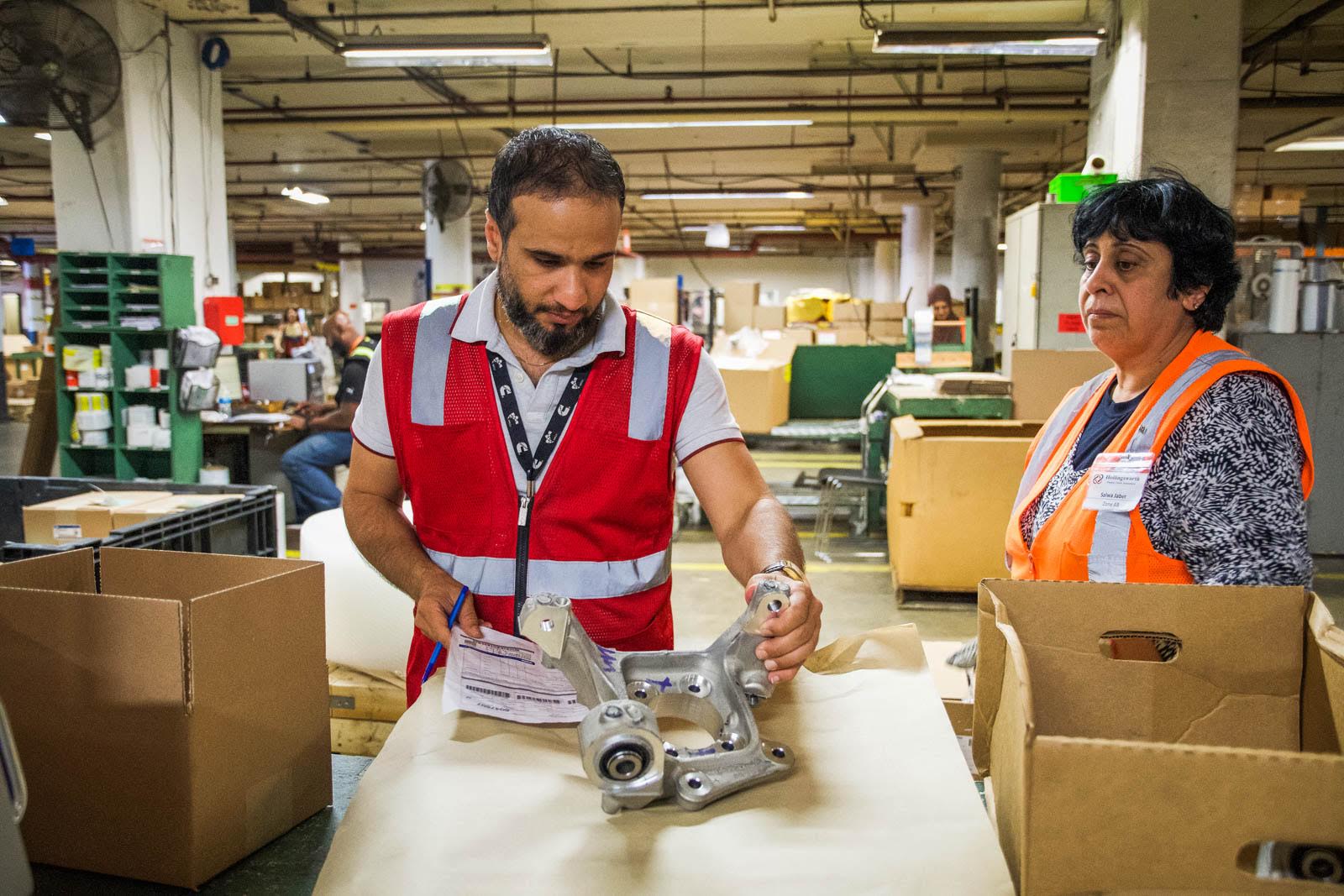 Advantages of Partnering With Hollingsworth
Hollingsworth is your best-in-class partner for quick, accurate, and cost-effective assembly and JIT delivery services. Some of the benefits of working with us include:
World-class parts production due to the use of the latest techniques in error proofing and technology
Re-automated and adjustable assembly lines to accommodate custom cycle times, meeting customer demands and providing on-time delivery
Barcode scanning for error proofing to ensure the right part is moving down the line:

If the scanning system recognizes the wrong part, the line will stop and prevent the part from moving to the next assembly station.

Enhanced efficiency of floor space and reduced cycle times for the material handlers picking and putting away material in the warehouse, thanks to long-range scanners
Custom pick-to-light system that delivers accuracy even for parts that are very similar in shape and size
Cordless screwdrivers for assemblies that require screws to fasten parts:

These have wireless screw counters to ensure that the screws are driven down to the correct torques before moving to the next screw.

Sonic punch and weld machines to punch holes and weld plastic parts together without using any heat, reducing the part complexity, the amount of different parts needed on the floor to be inventoried, and necessary floor space
An electronic end-of-line testing unit that analyzes the final assembly before shipping to the final customer, ensuring that all the electronic components we assembled meet continuity and functionality
A highly complex vision system to detect for the absence of certain fasteners inside assemblies:

If the vision system detects a missing fastener, the assembly will not cycle to the next station.
Features
Hollingsworth's assembly, JIT delivery, and metering services are made more efficient and support more precise, speedy operations due to these features:
Our SAP warehouse management system enable us to keep great inventories at 95 percent accuracy or better, therefore allowing us to keep a two-day minimal inventory on hand for the customer.
Real-time inventory status access allows the customer to manage their own inventory with increased efficiency.
We visually inspect parts to meet customers' part inspection standards.
We provide contingency planning and backup procedures for every process, avoiding lost time for shipments due to system failure.
We track every assembly with stored electronic data, ensuring that each part is correct and in the right sequence and has passed our error proofing and testing.
Our focused improvement team continuously looks for ways to reduce costs.
We have a strong culture and teams that develop our 5S and layered process audit programs.
The FCA selected and mentored us in their World Class Manufacturing program.
Contact us to learn how a partnership with Hollingsworth will optimize your order and inventory management, improve customer satisfaction, and grow your business.
Keep up-to-date — sign up for our newsletter and follow us on social media.