Reading Time:
2
minutes
Leading solutions provider to manufacturing & distribution industries celebrates evolution with streamlined name, new logo and redesigned website.
DEARBORN, Mich., July 12th, 2017—Hollingsworth—an industry-leading provider of supply chain management services and solutions—today announced a corporate rebranding that includes a new logo and a completely redesigned web site. President Michael T. McNamara made the announcement.
Formerly known as Hollingsworth Logistics Group (HLG), the Company's name has also been streamlined to "Hollingsworth."
Bold new look
Hollingsworth's new logo, with its tag line "Supply Chain Innovators," reflects the company's seamless integration of supply chain services. Featuring this striking logo and a fresh look and feel, Hollingsworth's new website offers quick and intuitive access to essential information about the company, a customer center and an updated media page.
"Today's Hollingsworth is a nationwide company with a diversified platform of value-added supply chain services and solutions," McNamara said. "This corporate rebranding embodies the Hollingsworth of today and represents our ability to tailor solutions to customer goals and programs and our dedication to best-in-class service."
Impressive growth and diversification
Established in 1925, the company was reorganized in 1991 as Hollingsworth Logistics Management. In recent years, Hollingsworth has dramatically expanded and diversified its customer base, geographic reach, facilities and business units, which now comprise Warehousing, Fulfillment, Packaging, Assembly and Sequencing, Vendor Managed inventory (VMI) and Program Management.
Today, Hollingsworth's more than 3,000 employees serve more than 250 customers in industries that include automotive, aerospace, retail, e-commerce and government. These customers are served through 25 facilities located in 10 states, with total warehouse space now exceeding seven million square feet.
The Company has also been the recipient of numerous supplier awards, which include: 2016 GOLD On-Time Shipping and 2015 Customer Care and Aftersales awards from General Motors Corporation; Top Supplier Recognition Award for the 2015 UF Chrysler 200 Build at Sterling Heights Assembly; a 2014 United States Postal Service Supplier Diversity Award; and, a 2016 CVS Health Supplier Diversity Rising Stars Award.
"Hollingsworth has been privileged to experience robust growth in recent years, which has provided significant career opportunities for our people," McNamara added. "Furthermore, we are excited also about our customers and business partners, and our ability to provide of state-of-the-art, fully integrated and highly responsive services and solutions for today's dynamic supply chain environment, which include our expanded B2B and B2C capabilities."
About Hollingsworth:
Headquartered in Dearborn, Mich., Hollingsworth is a leading provider to manufacturing and distribution communities in the areas of warehousing, fulfillment, distribution, packaging, assembly and sequencing, vendor managed inventory and program management. The firm is a Certified Native American Company, committed to a diverse workplace and making a positive contribution to the communities in which it operates.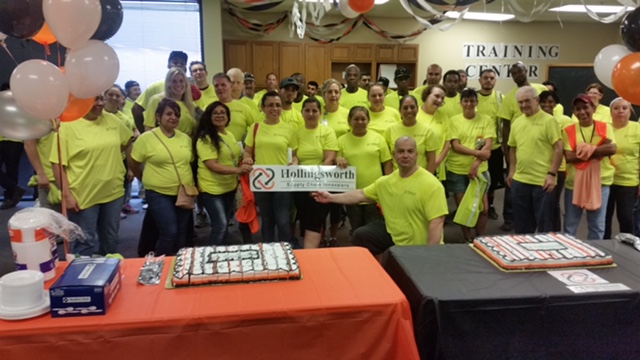 For more information, please visit https://www.hollingsworthllc.com or Contact Us.