Reading Time:
2
minutes
Hollingsworth LLC is a proud recipient of the 2016 CVS Health Supplier Diversity Award. The award was presented at the 2016 CVS Health Supplier Diversity Ruby Awards ceremony in Providence, Rhode Island. The award recognizes the distinguished contributions of CVS Health business partners and leaders.
Hollingsworth LLC received the Rising Stars Award as recognition of its support in providing warehousing, kitting and logistics services and solutions.
Accepting the award for Hollingsworth was Michael McNamara, President; Scott Motherwell, Director of U.S. Sales; and Jeremy Haynes, General Manager of Hollingsworth Columbus, Ohio.
"Diversity is critical for the organization's ability to innovate and adapt in a fast-changing environment, and is essential to the growth and prosperity of any company," said McNamara. "Diversity of perspectives, experiences, cultures, genders, and age breeds innovation and is certainly a key component of our success. The honor we've received from CVS Health reflects the commitment of our team and the fact that 80% of our employees and 10% of our vendors are minorities."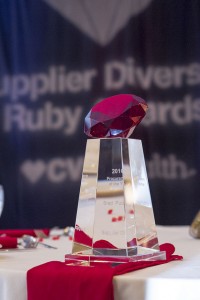 About Hollingsworth LLC: Headquartered in Dearborn, Michigan, Hollingsworth has emerged as a leading solutions provider to the manufacturing and distribution communities, including in the areas of fulfillment and distribution, kitting and packaging, assembly and sequencing, vendor managed inventory (VMI), transportation and freight management. The company is committed to a diverse workplace and making a positive contribution to the communities in which it operates.
For more information, please visit HollingsworthLLC.com and request a quote for your e-commerce business or supply chain needs.