Reading Time:
< 1
minute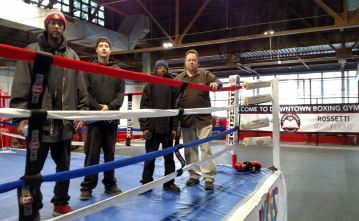 Hollingsworth volunteers went to the Downtown Boxing Gym Youth Program located in Detroit, Michigan.
The Downtown Boxing Gym (DBG) Youth Program is more than just boxing. Before the kids put on gloves, they have to do their homework.
The work that DBG does, changes the lives of the kids by offering a safe, cool and productive place to go after school and during the summer. DBG helps youth learn how to study through tutoring, teaching discipline through boxing and instill pride in their community through voluntary service.
In order for things to run smoothly for the kids, a lot has to get done during the day. In the mornings, DBG is very understaffed. This is where Hollingworth volunteers make a difference.
Hollingsworth came and helped DBG with administrative tasks such as organizing, filing, researching and prepping equipment for the evening program. It was an honor to be part of a program that transforms and empowers our children.
We look forward to working at DBG again!
Hollingsworth is always looking for volunteer opportunities. If you would like to work with us, please send us a message.